I
know it's been a while since my last post. Things have been crazy and my computer died. I've been using an old one, and it's not the best for blogging. Plus, my skin went crazy and the products I was using wrecked havoc on my normally calm skin. So in an effort to correct the madness, I went on a binge of trying products to soothe and heal my skin. My skin was reacting to any and everything. After a consultation with a dermatologist, I discovered I was having an atopic dermatitis type reaction on my face due to ExfoliKate and the detergent I use to launder our washcloths.
So my derm recommended Free and Clear Products while my skin was healing from the reaction. I used the cleanser with Clarins Gently Day/Night Cream. The Free/Clear products can be purchased at Walgreens or Publix in the pharmacy. Or if you prefer, from Drugstore.com. I highly recommend the cleanser when trying to soothe aggravated skin. It's free of dyes,parabens, mineral oil, fragrance, lanolin .. you know all those things that can cause redness and reactive skin.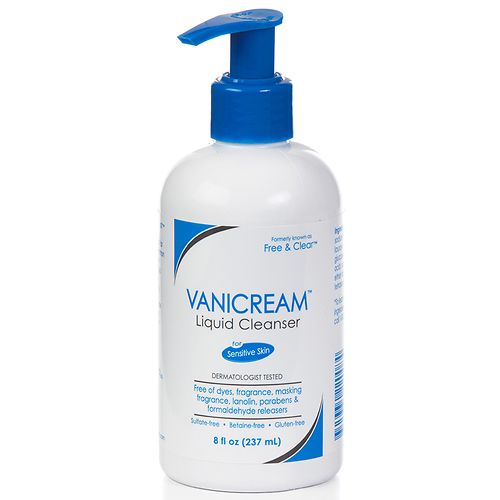 Also, I definitely recommend Clarins Skin Beauty Repair Concentrate to soothe and heal skin while dealing with breakout and allergic reactions. This product really healed the skin and reduced burning and redness. It was a lifesaver when I was in tears looking for something to stop the pain! The serum is a light oily liquid concentrate that is magic in a bottle I say. So worth the price tag... It retails for $60. I would encourage you to stop by your local counter to grab a sample as it is rich with natural oils and botanicals, and some who are sensitive to oils may not care for the product. I am very sensitive to oils and this caused no problem for my skin.
After using these products for a few weeks, my skin was completely healed. I wanted to see if I could try a different regimen, as I felt this was only doing so much. At 41, I felt like I needed to add some new anti-aging products, but I was afraid to use anything that could cause a reaction. However, the Clarins products really helped to heal the skin, and I've been able to add more products without any issues.
My first product is a new cleanser. I must say that I love how this cleanser cleanses and does not dry out my skin. My skin feels hydrated and clean. I was browsing one night and discovered this brand and I'm so glad that I did. I've been using Mad Hippie Cream Cleanser for weeks, and it is so lovely. It's all natural and cruelty free. I cannot recommend this cleanser enough. If you've not heard of Mad Hippie-- Check out their website at http://www.madhippie.com/. It's also available at Whole Foods , Drugstore.com and other places. It's only $16, and you don't need much. In my opinion, this could work for all skins except for very oily.
Mad Hippie Cream Cleanser
:
I am also using a Vitamin C serum for the antioxidant factor. We've all heard how great Vitamin C is for the skin with it's anti-aging properties. I am so glad I gave this one a try. Another great product from Mad Hippie in my arsenal. Vitamin C can be very irritating to the skin so, it's important to find one that caters to sensitive skin. Mad Hippie Vitamin C Serum does just that. With a mixture of hyaluronic acid, Vitamin E, chamomile, clary sage and Ferulic Acid, this serum is just the ticket for sensitive and non sensitive skins. I use a drop in both my morning and night regime ,and I've seen a big difference already in both the texture and moisture level of my skin. I feel like my skin is radiant and naturally glowing. At less than $34 for 1.0 ounce, this is such a great deal for the results compared to higher priced brands with less results. You need this one! I really like these two products from Mad Hippie. I'm looking for an eye cream next, so I going to try the one from this brand.
Mad Hippie Vitamin C Serum
Stay tuned for my next post where I will share with you a gentle night treatment and my new daily and nightly moisturizer
s.